OnePlus just recently launched their flagship phone on April 24th. The phone is now available for sale in many markets. Within a week of phone delivery, users have started facing many screen related issues. Here are the four worst display problems consumers facing on OnePlus 8 and 8 Pro.
1. Green Tint Problem
We have seen in the past OLED screen tend to have a green tint when brightness is set between to 1% to 20%. Google Pixel 4 and Samsung S20 Ultra had the same issues; however, they fixed the issue in a software update.
The phone starts sowing green tint when the brightness is low on a grey screen in a pitch dark room. You'll probably not notice this problem in daylight or in full brightness, but the issue is still there. Some users are saying it is more significant when DC dimming is on and when the refresh rate is set to 120HZ. OnePlus did not give any statement regarding it; however, they have sent an OTA update to fix the problem, but they haven't mention whether the update will fix the issue or not. Some Oneplus 7T users also had reported the problem, but with the OnePlus8 series, it's like more people are facing the issue.
OnePlus pushed a new update 10.5.5 in which they have optimization display, improved camera, and battery.
But some users are still having problems even after updating to 10.5.5.
2. Black bar across the top
OnePlus 8Pro users have also reported that they can see a black bar across the top of the screen. This could be because of the punch hole. Some of the pixels are affected by that punch-hole. Not every single device has this problem, but quite a few people have reported that. The black bar is annoying and may be more prominent with more usage.
Some People have asked to replace the phone and got a new one. The problem could be with a specific batch since only a few people are reporting it.
3. Crushing the blacks
This is a new problem for OnePlus. We have no experience with a 10bit display; we can't tell if the problem is because of it. OnePlus is having a problem showing HDR content. The black part of the videos is completely crushed. You can see the comparison here between Note 10 and OnePlus 8 Pro showing Netflix show.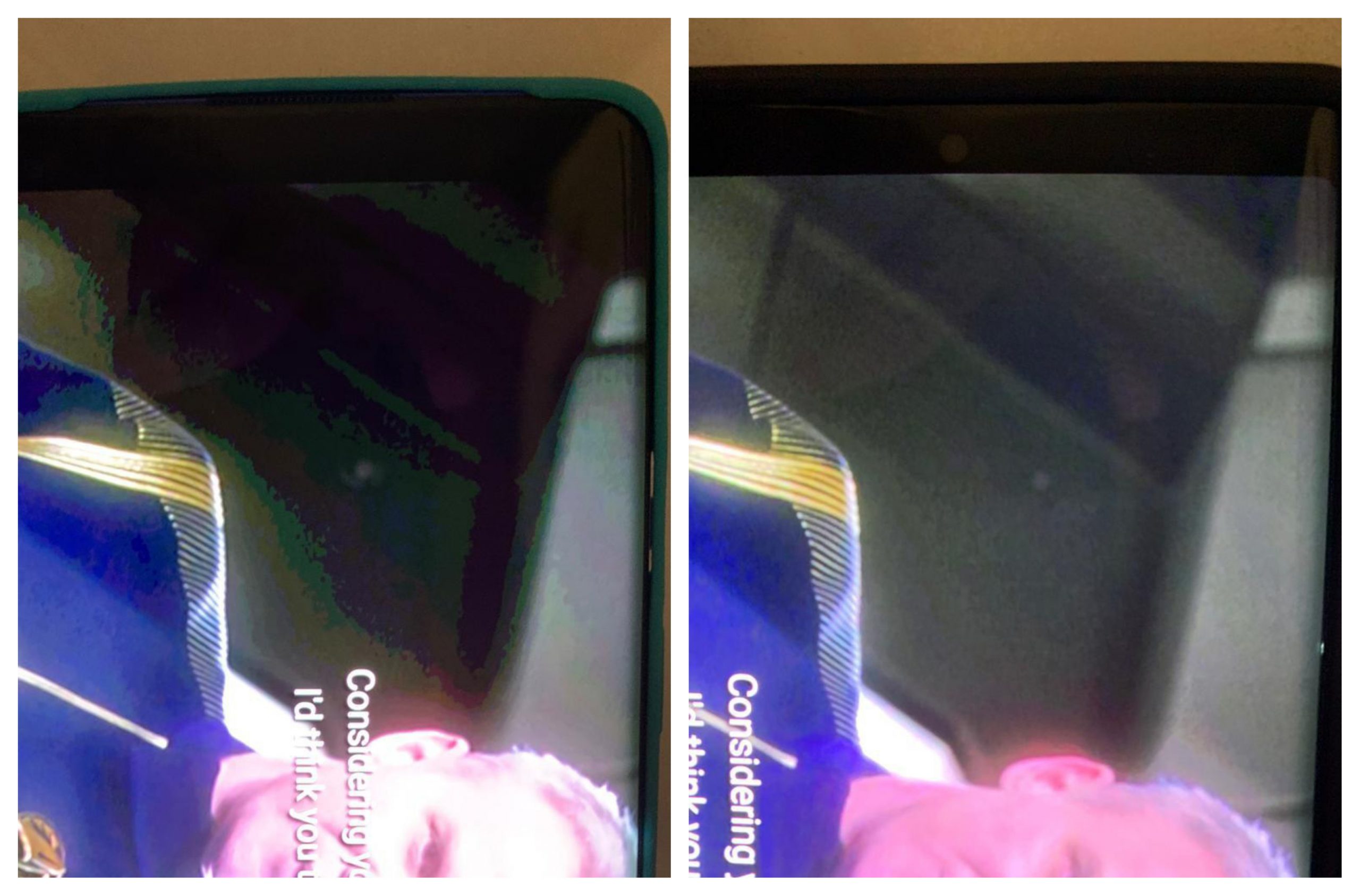 The problem could be because of the 10bit penal or maybe because of the software. We are hoping OnPlus will respond to it and fixed it as soon as possible. It is unacceptable when the device costs flagship; it is supposed to perform like a flagship.
4. Image retention problem on OnePlus8 series
This is also a common problem with OLED display, but it happens when you use the device for like a year or two. Samsung display gets the same kind of problem when using it for years. This is not the case with OnePlus. People have reported that the images are retaining on the screen when the image is not being shown. You may see in this picture how does it look like; however, the burn-images are not staying on the phone for a longer time. This problem, in my opinion, is a hardware problem. Users are getting their phones replaced.
If you have got the device that doesn't have any of these problems, then you are lucky, and based on that, we can assume that the problem is with a specific batch.
Right now, the OnePlus phones are being sold only in few markets because of the pandemic. And several users have reported the problems. Many people have decided not to go with OnePlus 8 or OnePlus 8 Pro because of it. The phone is yet to be sold in their biggest market India. If they don't fix this on-time, more people are going to have these problems, and the OnePlus 8 series could be a total fail.
Related posts